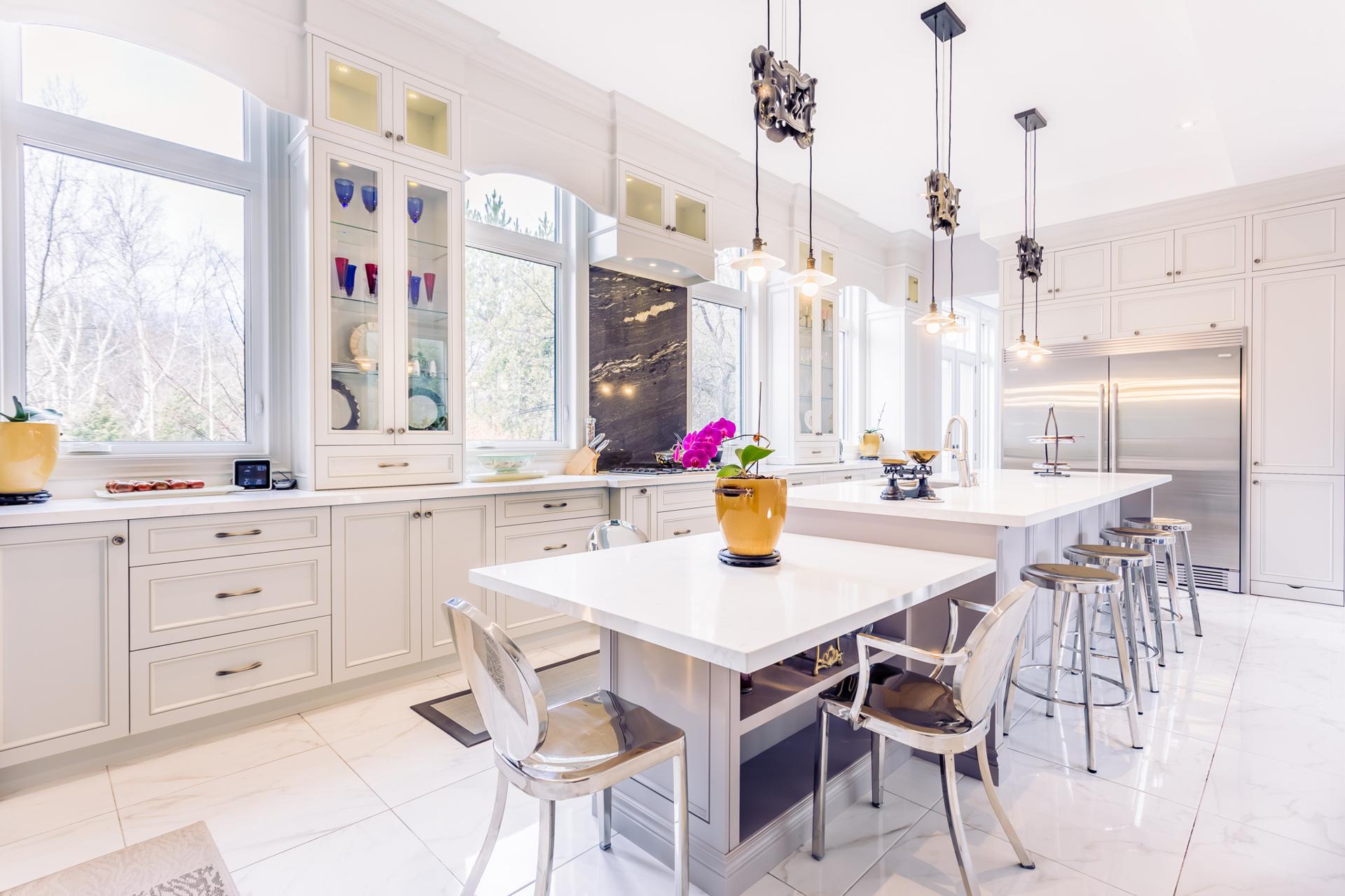 Custom Kitchens
---
Transitional kitchens
---
Contact Us More like this Find Projects
Our transitional designs encompass the conventional style of a traditional kitchen and the sleek cleanliness of a modern kitchen. These designs include components like, streamlined cabinets, crown moldings, geometric lines and other elements that produce a kitchen that consists of both clarity and grace. Visit our gallery for our custom kitchens in the homes of our happy customers.
---
Modern kitchens
---
Contact Us More like this Find Projects
For our trendy and urban customers, Trillium Kitchens offers modern designs that are built with up-to-date trends and technology. These designs include components such as pendant lights, clean lines, cabinets altering from wood grains, veneers, stainless steel appliances and many other elements to create a modern kitchen. Visit our kichen showroom displays and our gallery for inspiration to make your space balanced with functionality and design.
---
Traditional kitchens
---
Contact Us More like this Find Projects
Trillium Kitchens designs embody what the traditional kitchen is all about, leaning on classic elements and designs that are timeless. Our traditional kitchens include components like rich wood finishes, raised panel doors, antique accents, turned posts, large over-mantel style range hoods, multi-level crown moldings and French mullion glass doors. Our traditional kitchens offer the functionality of a modern kitchen with an elegant feel of a classic period.
Custom Cabinetry
---
Bathrooms
---
Contact Us More like this Find Projects
At Trillium Kitchens, we offer custom built bathrooms with cabinets and vanities for your bathroom design ideas. If you're looking to create space or do a bathroom renovation Trillium Kitchens has you covered. Contact us for an appointment with our bathroom design specialists and custom build the bathroom of your dreams.
---
Fireplace
---
Contact Us More like this Find Projects
If you can dream it, Trillium Kitchens will create it with our custom home fireplace designs. Trillium Kitchens has a reputation for designing exquisite custom fireplaces and fire features. We have exceptional knowledge in DaVinci fireplaces, custom fireplace mantels, wood or electrical fireplaces and fireplace instillation. Combine this with our custom fireplace expertise and you have a winning combination of beauty and functionality. Visit our gallery for inspiration for your own home and contact us with your ideas.
---
Bar
---
Contact Us More like this Find Projects
Create and design a custom-built bar to enjoy a relaxing evening or entertain your guests with good drinks in the comfort and intimate setting at your home. Trillium Kitchens can help design and build the perfect place to celebrate any moment. Visit our gallery and take a look at the different custom bar designs we have built that you might love.
Other Cabinetry
---
Closets
---
Contact Us More like this Find Projects
We can help you create the dream closet you've always wanted, optimizing storage space with complete design flexibility is what we guarantee at Trillium Kitchens. Our clean, simple cabinet design allows us to use premium, durable materials. Custom build a beautiful and sensible custom storage solution with the flexibility to grow and change with your needs, and quality to last a lifetime.
---
Commercial
---
Contact Us More like this Find Projects
We have custom-built stainless steel commercial kitchens for restaurants, schools, and food processing facilities. Take advantage of our years of experience with designing these large kitchens to ensure the best functionality and visual appeal.
---
Other
---
Contact Us More like this Find Projects